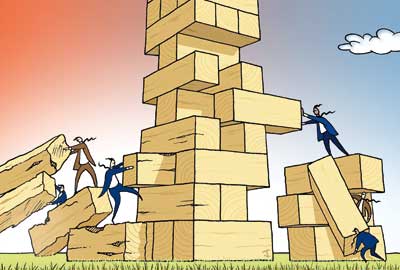 This last week has been one of turmoil, I love my job as CEO and most of the tasks I undertake are enjoyable.
However putting people at risk of redundancy is not a job I enjoy. This week we have begun the process of restructuring a department as the number of referrals we are receiving has reduced, due to a change in commissioning. This in turn reduces the income we receive. I find this an emotional roller coaster not only are we having to shrink a worthwhile project that I and others have invested a lot of time and energy in growing but we risk losing valuable staff.
The responsibilities of a CEO mean that we often have to make these difficult decisions, otherwise there could be potential bigger consequences.
Meeting with a CEO of a statutory organisation the other day we were reflecting on the work we are both undertaking. It was strikingly similar the approach we take to managing budgets and staff. The reality is the economic situation is tough at the moment and we have to be realistic about what we can offer.
So yes I am not enjoying my job this week, I am not enjoying watching people go through the emotions they are as they realise less jobs are available than before the restructure. However I know Young Gloucestershire needs to do this too. I feel the same frustrations as the staff, if there was more funding we could improve the services and what we offer, if there was more funding we could have more staff.
The frustrating aspect is they and I believe we can do better than we already do but to achieve this we need more funding to work with the most at risk and vulnerable in our society.
That isn't what we have though so we aim to be amazing with the funding we have. Yes we will lose some good staff; yes we will lose some of the learning we have achieved over recent years. However we won't lose our passion for working with young people. We are still committed to improve our provision and services. Ultimately widening the opportunities for vulnerable young people in our society. We will live to see another day in which our focus will be 'inspiring young people'.